The Texas Conspiracy
The devious plot has been uncovered!

The satellite image down below is one of many taken beginning in the Spring of 1999.
In case you don't recognize the image it is Longitude 40.850332 Latitude -96.74728,
better known to the layman as Memorial Stadium, Nebraska. Now you may think that
this is an innocent NASA photograph or perhaps the work of the US Geological Survey
but I believe it to be much more sinister than that. What is really suspicious is that
upon further magnification of these images you can detect such details as the beads
of sweat on Frank Solich's brow and the Cornhusker play diagrams on his clipboard.

Being the amateur sleuth that I am, I decided to dig deeper and what I have found
will shock and rattle you to the core! [shudders] It seems that this particular series
of images was taken from a private satellite launched in the Fall of 1998 from a site
near Houston, TX. The satellite, OVEB99, is not owned by the government or by a
commercial venture but rather it is registered to a private citizen in Austin, Texas!
[The plot thickens] Reportedly, the citizen in question is a UT graduate and a
generous benefactor of a University in Texas. Interestingly, he made his fortune as
a tea importer and runs a Cadillac Escalade dealership in Austin which is the subject
of my next investigative report on college football recruiting. But I digress.

It seems that a strange flurry of photographic activity was detected from this satellite
in the days leading up to October 23, 1999 and images were downloaded to an
undisclosed location in Austin, at or near a university campus. The very detailed
photographs of activity taking place at Memorial Stadium have recently been
declassified and were published on a Texans for Nebraska fan website, but this
website has mysteriously disappeared from cyber space for reportedly violating their
ISP's terms of service. The site was hosted by TOL, Texans Online. TOL declined
comment when contacted. Needless to say, it would have resulted in a disastrous
competitive advantage had these photographs fallen into the possession of a
Nebraska Cornhusker football opponent during the 1999 season. [gasp!]

The investigation is ongoing but circumstantial evidence is beginning to mount.
I am confident that the case will finally be solved as soon as I can figure out
the significance of the name OVEB99 and the date October 23, 1999.

There has been suspicious activity in my neighborhood lately involving burnt
orange-clad ruffians driving Cadillac Escalades. Fearing for my safety I have
secured an envelope in a lockbox with only my closest Husker confidants knowing
the whereabouts of the key. Let's just say that the NCAA Committee on Rules
and Infractions would be interested in the contents. Very interested.
To be continued ....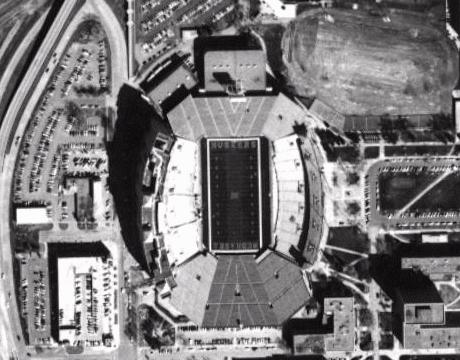 Back to
The CORN Crib

© 2002-2003 Wally831@yahoo.com