Wally's View
from the cheap seats
2004 preseason predictions

Select a season from the cheap seats:
2004, 2003, 2002, 2001, 2000, 1999, 1998

2004 BIG XII predictions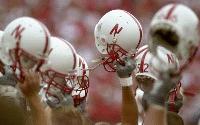 Wally, you couldn't predict rain in a thunderstorm!

Preseason prognostications on 7/25/04
9-2 (8-3)

Western Illinois - Win
The Leathernecks are a good D1-AA team with some quality talent but
they lack the depth needed to have a prayer in Lincoln.

Southern Mississippi - Win
The Golden Eagles make a return trip to Lincoln and the result will
be more of the same. Nebraska Cornhuskers by 21.

@Pittsburgh - Probable win
This early road test could be a barometer for Nebraskaís season but this
is a game they should win. Heinz field wonít exactly be hostile territory
with Nebraska fans snapping up Pitt season tickets for $60 just to see this
one game. They lost all-everything WR Larry Fitzgerald from an 8-5 team but
remain a formidable foe for Nebraska.

Kansas - Win
Kansas is an up and comer and will surprise some teams this season.
But not Nebraska, not this year and not in Lincoln.

@Texas Tech - Win
Tech could contend for the South championship if they only had a clue
about playing defense in Lubbuck. They wonít and they donít. Still, this
will be a dangerous game for Nebraska and the Blackshirts will be heavily
relied upon to keep them in the game. NU by 7 in a shootout.

Baylor - Win
The Baylor football program can only go up from here. The coaches are trying
but a loser mentality has taken hold in Waco. But hey, they beat Colorado!


Kansas State - Tossup
A very difficult road game for the Huskers. RB Darren Sproles is getting Heisman
hype and deservedly so, but a huge hole was left behind the center with the exit
of Ell Roberson. Most pundits predict a loss here but the Husks could surprise.

Missouri - Win
I don't understand the hype being heaped upon Missouri. Their only decent win
last season was against fumble-prone Nebraska, at home, in the pouring rain.
They went 8-5 and beat a 4-8 Middle Tennessee State team 41-40. They can only
hope that the passing game they are praying for materializes.

@Iowa State - Win
This program has had more ups and downs than Lance Armstrong did in the Alps.
Barney Cotton would be the savior for ISU if only he could suit up. Look for
Omaha Creighton Prepís Stevie Hicks to have a big year running the ball.

@Oklahoma - Probable loss
Nebraska will give OU all they can handle in a hard fought battle between two
storied football powers. Thatís my prediction for 2005. The game this season in
Norman could get ugly but anything can happen. Remember that game in 2001?
Upsets happen, like Baylor beating Colorado!


Colorado - Win
The buffies will limp into Lincoln at 5-5 or worse but will still get up for
this game. A win against Nebraska will make their season despite all the
off-season defections, trials and tribulations. The Huskers will feast on
roast buffalo, Barney will whine and cry and couches will be burned in the streets.
In other words, it will be business as usual in Boulder, Colorado.



Send hatemail and viruses to:


© 2004-2005

Disease free email