Notes from a KSU fan: My awful experience in Lincoln

It was 1999, and I remember it just like yesterday. I was part of the KSU band, the travelling squad, and I was so
looking forward to my first away game. We were just coming off a huge win over Colorado in Manhattan. We were
9-0 and had managed to survive a brutal out-of-conference (OOC) schedule.

On the bus ride up to Lincoln, we were taunted with roadside signs. You know the ones I mean. Calling us
"Mildcats" and "Kitties". But we were undaunted, despite the fact that we hadn't won a football game in Lincoln
since Jerry Lewis was funny.

We stopped the bus at the Dairy Queen in Beatrice for a morning snack. I purchased my order and got back on the
bus. About 10 miles down the road I looked into the bottom of the bag and was horrified. No dilly bar! That Corncob
loving Nebraska s.o.b. actually shorted my order because I was a KSU fan. I'll never forget that guy behind the DQ
counter. I think his name was Willy, or something like that.

By now I was more determined than ever not to let my first venture into the land of corn be a bad experience. We
were undefeated, having survived a brutal OOC schedule, and were ready to see the Wildcats march to victory.
I would blow my tuba that day like I had never blown before. Or since.

We finally rolled into Lincoln and proceeded into the stadium.
It was a cool November day but the sun was shining bright. All around people were taunting us with their red
sweaters and jackets. Their red hats, bandanas, sweatshirts. The chants of "Go Big Red", the Husker band playing
that one song they always play, that stupid Herbie Husker prancing around in his overalls, ....you get the picture.
Then some arrogant cornhead behind us tells me "Good luck on the game". He was wearing a red jersey with his
name on the back of it. It said Walty, or something like that.
"Good luck"? I'm thinking, what the heck does this fusker mean by that? Luck doesn't have anything to do with it.
We were 9-0 after having survived a brutal OOC schedule, after all. We deserved respect. No, we had EARNED
respect! But he said we hadn't really played anyone yet and should consider beefing up our OOC schedule. I couldn't
believe the arrogance from this big red blowhard. I'd show those Husker bozos by blowing my tuba like I had never
blown before. Or since.

Well, my bad experience in Huskerland just kept getting worse and worse. Not only were my beloved Cats beaten
badly that day, 41-13, but I was subjected to the worst treatment I have ever heard of. Before or since. As I took my
shiny tuba out of the case I noticed that somebody had left an unpleasant surprise in there. I couldn't believe it! One
of these corncob lovers had actually cr@pped in my tuba! And that red jersey wearing punk behind me just sat there
with a sh*t eating grin. I think his name was Wiley83, or something like that.

I'll never forget that awful November day in Lincoln. To this day I wake up in a cold sweat at night screaming
"But we play USC, but we play USC!", but it falls on deaf ears. Why oh why?

The mighty purple Wildcats will be back in Lincoln this season to avenge that loss in 1999. Snyder 2 Solich 1.
Enough said, I say. And you can no longer tease us about our OOC schedule because we play USC and you play
Troy State. And I will avenge Willy83's cr@pping in my tuba this year in Lincoln!

All the above events are true, but the names were changed to protect the innocent. Except for the part about
Wally83 cr@pping in my tuba. At least I think that was his name. Or something like that.
emaw, KSU_CAT93


The webmaster unequivocally denies having anything to do with a tuba. A French horn? No comment.



Readers react
KSUPowercat:
You are truly retarded, no really, I mean it. You are one stupid person.
If you expect ANYONE to believe that was written by anyone but yourself,
you had better put down the pipe.

KSUBandAlum:
Interesting piece of fiction...too bad the band wasn't in Lincoln that year.
It could have added just the faintest waft of realism to your story.
Oh yeah, almost forgot...Blah, Blah, Blah to you.

RoboCat:
I feel dumber having read that....

KeatsKat:
Truly a case of "Red" journalism at it's best (or worst) .....

purplecat1:
Where is everyones sense of humor? OK, Wally or Eddie Haskell or whatever your name is....
I admit its funny. Maybe we can return the favor after this years game?????? We can
send you a Zappa Crappa or Corn-cob outhouse joke back at ya!

HuskerX:
great comic relief and something I badly needed.
However, don't forget that KSU got their revenge for the 41-13 loss by pounding us into
oblivion in that completely lop-sided 1 point win over us last season in Kittytown.
Something we can all fear and respect.

Sooner in Texas:
Dude, I quit reading your Manifesto after the 2nd or 3rd paragraph. It is way too long
without getting to the point. I could care less about Willie shorting you a Dilly Bar.
Get to the point and don't ramble. BTW, good for Willie!

Huskerbj:
There is nothing worse than having your Dilly shorted. I understand
why you wake up in cold sweats often. Try sleeping on your stomach.

Frankfangston:
You deserved it! Since you are a cat fan, get used to it. No one in
the old Big 8 thinks highly of the upstart, braggard, purple cats.







Flushing KSU since 1911 (70-12-3)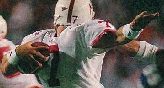 wally831@yahoo.com
© 2001-2002 wally831@yahoo.com