Click on image for a better look


Ticket Information

Official Ticket info: UNL athletic ticket office
In Nebraska: 402-472-3111
Outside of Nebraska: 800-8BigRed
Try the Ticket swaps at
HuskerPedia , Huskers Illustrated, Big Red Report or ebay


Stadium Tidbits

Construction: 1923 Current capacity: 81,067
Original cost: $430,000 Original capacity: 31,000
Home sellout streak: began 11/3/62 against Missouri
Consecutive home sellouts: 304 through the 2009 season
Nebraska's home record is 263-41 during this time period
Record attendance: 91,585 on 9/20/2014 vs. Miami
Home attendance average: Over 75,000 the past 30 years
The 3rd largest population area in NE on home game days
HuskerVision added 1994 Fieldturf installed 1999
Field rededicated in honor of Tom Osborne 4/1998
New Skyboxes and expanded Press Box dedicated 9/1999
Ground broken for Tom and Nancy Osborne Athletic Complex 8/2004
Surface FieldTurf, "Cool Play System" 2013
6,000 seats added in 2013: Current capacity 91,000 plus
300th consecutive sellout 9/26/2009 vs. Louisiana-Lafayette
Average attendance in 2009: 85,888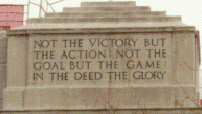 The following inscriptions were written by former UNL philosophy professor
Hartley Burr Alexander and adorn the four corners of Memorial Stadium:
Southeast:
"In Commendation of the men of Nebraska who served and fell in the Nations Wars"
Southwest:
"Not the Victory but the action: Not the goal but the game: In the deed the glory."
Northwest:
"Courage; Generosity; Fairness; Honor; In these are the true awards of manly sport."
Northeast:
"Their Lives they held their countrys trust; They kept its faith; They died its heroes."
Stadium Links

Official Gameday Guide
Downtown Lincoln parking
Gameday parking map
Lincoln visitors guide
Husker visitors guide
When in Omaha, do as the Omahans do
Where to eat, drink and sleep in Omaha



Lincoln weather