Michigan Skunk Bears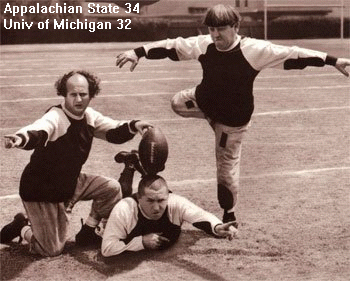 Michigan is the first ranked team to ever lose to a D1-AA opponent


U of M - Home of the 1902 NCAA Snow Sledding Champions


Michigan forfeits 1997 season!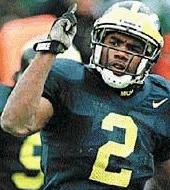 Money rules, screw NCAA rules! Show me the dirty money!
I accept cash, gifts, Mastercard, Discover and Visa.




"You may not know this, but I am kind of a big deal. I have many leather-bound books
and my house smells of fine mahogany. Plus, I have several hockey trophies and the
consensus 1902 horse shoeing championship. No one knows the origin of the name
Michigan, but some say it means a giant flowing douche."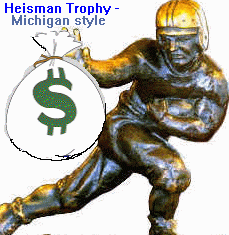 Michigan football trophies
over the last half century



The University of Michigan's football motto:
"There's just no substitute for contemporary opinion when you're trying to recreate the past"
- Brock J. Hanke

Home of the 1901, 1902 and 1903 NCAA Euchre Champions!
Why would a Michigander be a Nebraska Cornhusker fan?
Deep behind enemy lines there dwells a family of Cornhusker fanatics.
Mr. and Mrs. Wally were born and raised in the land of corn and graduated from the
University of Nebraska. We fly our Husker flag proudly every Nebraska gameday
and suffer the scorn of Michigan, Michigan State and Notre Dame fans.
But the Nebraska Cornhuskers usually get the last laugh

Since Michigan refuses to play NU, you'll just have to ask Northwestern,
Michigan State and Notre Dame fans what a Big Red buttwhipping feels like.

Where to find me on Husker game days in West Michigan:
Uccellos (Italian)
Damon's (Ribs)
Vitales (pizza)
Or come on over to my Corn Crib, just as soon as Rockford
Cablevision figures out which direction to point the satelite in :)

Southeast Michigan Huskers
Join the SE Michigan Huskers
Watch site: The Shark Club at 42070 Ford Road, Canton, MI
or Damon's on Ford Road west of 275
Contact Dan for info and to add yourself to the mailing list